Environmental Report 2018
Chemical Substance Management
Improving Chemical Substance Management
In consideration of workers' safety and health, and looking to lower environmental impact, we are working to improve the management of chemical substances. We will present examples of our initiatives.
 

●Streamlining the system for chemical substance registration
First, we will explain chemical substance registration.
 In the environmental safety assessment, our internal preliminary assessment system, we not only assess new chemical substances, but also the installation of production equipment, construction, waste discharge, and non-regular work that is considered a safety problem. Regarding the use of chemical substances, we will create our own "Chemical Substance Safety Form" that contains transportation, storage, handling, disposal and other required information, and conduct assessments.
 Procurement only takes place after passing the assessment and registering.
 (See the figure below)

■New chemical substance preliminary assessment flow based on environmental safety assessment
At JAE , environmental safety assessments including risk assessments were put into electronic format in fiscal 2017, and we began making practical use of them from April 2018.
 Through digitization, assessment efficiency was improved, and quick registration of chemical substances is expected in the future.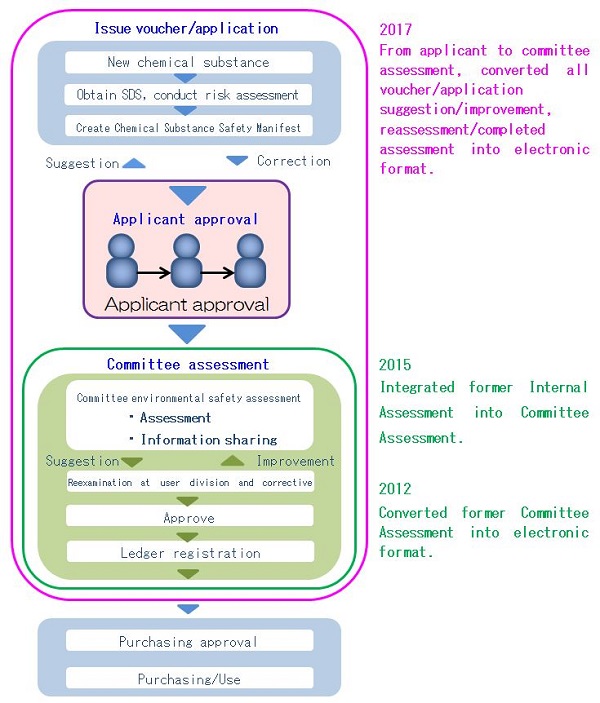 Monitoring Registration of Chemical Substance Product Types
Change in the number of chemical substance product types at production sites in Japan is as visualized in the below graph. The reason that the JAE site has more chemical substances than other production sites is because it is not only involved in production, but is also a development plant and uses chemical substances for testing. The JAE Group continues to work hard to cut types of unnecessary chemical substances and to reduce the volume of chemical substances, as shown below.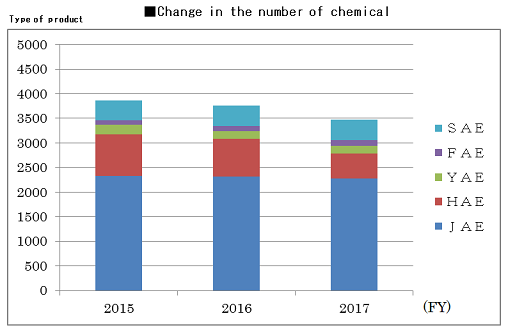 Reduction of Chemical Substances
As in the previous fiscal year, in fiscal 2017 each production site in Japan selected specific chemicals and worked to reduce the amount used in order to reduce its environmental impact. The main points of the activities for reducing the use of chemicals in fiscal 2017 are shown below, and these reduction efforts will continue in the coming years.

JAE:

Reduced the amount of deposited gold needed for gold plating
Reduced registered substances by rationalizing production, and reduced substitutes and organic solvents

HAE:

Reduced chemicals that fall under the category of hazardous/specified chemical substances by reviewing the renewal frequency of continuous gold plating
Reduced chemical usage that falls under the category of hazardous/specified chemical substances/PRTR substances by reducing replating
Reduced chemicals used in treatment of trivalent chromium liquid waste

YAE:

Reduced the amount of parts cleaner purchases

SAE:

Reduced environmental impact by changing NC lathe cutting lubricant
PRTR Data
The graph below shows the change in the amount of chemicals subject to the PRTR Law (*use cursor to view definitions) that was used by production sites in Japan.
 The JAE Group's efforts to identify trends with regard to the handling of PRTR volumes are ongoing.

VOC Information
The total volume of chemical emissions of VOCs (*use cursor to view definition) and related substances for production sites in Japan is shown in the graph below.
 We will continue to monitor these emissions.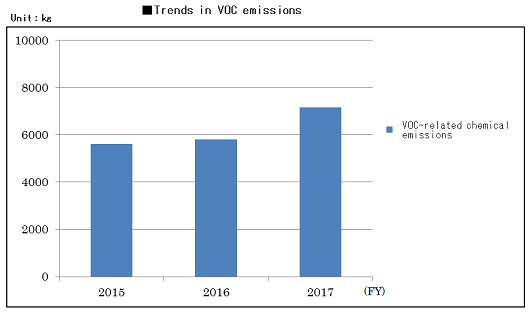 Symbol of the Group's Environmental Policies
Significance of the Environmental Report
Environmental Performance
Environmental Management
Environmental Accounting
Engaging with Society: Group Sites