JN2V Series Small Circular Connector Enhanced Vibration Resistance for Industrial Equipment
JAE has developed the JN2V Series small circular, one-touch locking waterproof connector ideal for servomotors and other various industrial equipment requiring environmental resistance.

There is an increased trend of factories becoming automated. This has led to the implementation of industrial equipment, such as machine tools and robots. The enhanced motion complexity of these equipment has increased the demand for the necessity of servo motors.

Simultaneously, the operating speed of these equipment have increased to improve production efficiency. The increased operating speed has caused equipment and servo motors to be exposed to large amounts of shock and vibration. Under these circumstances the importance of connectors requiring superior measures against electrical discontinuity has become apparent.

To cater to the trending requirements, JAE has developed a plug connector to enhance resistance against shock and vibration, which will provide stable contact performance even when applied loads exceeding what our conventional products can withstand.

The JN2V Series comes in same form factor and dimensions as our conventional JN2 Series allowing for mate compatibility between the two series. Yet the improved contact structure enhances shock and vibration withstanding.

The JN2 Series contacts have a two-point contact structure, whereas that of the JN2V Series are offered with a five-point contact structure. It is this added contact points that ensures the contact stability even when applied larger loads of shock and vibration. Being able to withstand 245m/s2 (25G) the JN2V Series offers 2.5-times higher shock and vibration withstanding than our conventional JN2 Series plugs.

This small waterproof I/O connector will be optimal for servo motors, for robots, automation machines and machine tools, as well as various other industrial equipment that require wide range of environmental resistance.
Features
Improved vibration resistance by having a 5-point contact structure socket contact.
Compliant with 245 m /s2 (25G) vibration condition. Standard JN2 Series: 98m/s2 (10G) (for reference)
Designed to mate with standard JN1/JN2 receptacle connectors
Utilizes same semi-automatic crimping tool (applicator) as JN1/JN2 contacts (Requires manual crimping tool exclusive to JN2V)
One-touch, push-and-twist, lock mechanism
IP67 conforming dust and waterproof
The right angle plug can be set in four different 90° increment cable orientations
Applicable Markets
Various industrial equipment, such as robots, automatic machines, and machine tools, which require vibration resistance and to be waterproof.
General Specifications
| | |
| --- | --- |
| Item | Specifications and Performance |
| Number of Contacts | 10 position |
| Rated Current | 3A / position (#22 size contact) |
| Rated Voltage | 200VAC |
| Dielectric Withstanding Voltage | 900VAC (1 minute) |
| Insulation Resistance | 1000M Ω or more (500VDC applied) |
| Vibration Resistance | 245 m /s2 peaks, 10 to 500 Hz, 3 hours for each 3 axes (total 9 hours) |
| Durability | 500 cycles |
| Water Resistant Performance | IP67 (in mated condition) |
| Operating Temperature Range | -20°C to + 100°C |
| Wiring Specifications | Crimp connection: 20 to 28AWG |
Materials and Finishes
| | |
| --- | --- |
| Component | Material / Finish |
| Socket Contact | Copper Alloy / Contact area: Au plating over Ni, Terminal area: Sn Plating |
| Insulator | Synthetic resin |
| Gland Nut | Synthetic resin |
| Endbell (for straight plug) | Synthetic resin |
| Endbell (for angle plug) | Synthetic resin |
| Assembly Nut (for straight plug) | Synthetic resin |
| Assembly Nut (for angle plug) | Zinc alloy / zinc plating |
| Coupling Nut | Zinc alloy / zinc plating |
| O-ring | Synthetic rubber |
| Bushing | Synthetic rubber |
| Spring | Stainless steel |
---
JN1V/JN2V Series (For more details) >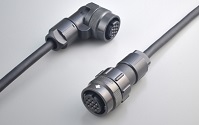 ---
Information and details given here are as of the date of publication. Please note that the details may be changed.