Waterproof USB Type-C™ Receptacle Has Been Developed to Add to Our DX07 Series Connectors
JAE has launched a waterproof USB Type-C receptacle to add to the DX07 Series line-up. The "DX07 Series" family consists of Type-C receptacle connectors, plug connectors, and cable harnesses.

As a next generation standard interface, USB Type-C connectors are widely used in new PCs, smartphones, hand-held devices, audio visual devices, and portable gaming devices, etc. Recently, the demand of waterproof performance has increased for applications such as high-end smartphones. To cater to these trending requirements, JAE has developed the USB Type-C waterproof receptacle.

Generally, for waterproof connectors with IPX7 rating or higher, potting (resin seal) is used for waterproofing. However, there were concerns of small gaps forming during reflow processes which expose the connector to high temperatures.
The JAE product does not use the potting method in consideration of the reflow heat, and instead achieves waterproof performance by adopting a unique design and insert molding process. As a result, the product has a highly reliable waterproof structure to satisfy IPX8 (resistance to submersion at a depth of 1.5m for 30 minutes) even after the reflow process.
Two connector shell lengths have been developed, offering even greater design flexibility so the connector can be used for a wide range of devices.

As a manufacturer who has taken part in the development and standardization of the USB Type-C specification, JAE will continuously work to expand product variations of receptacles, plugs, and cable harnesses in the DX07 Series.


Note) USB Type-C™ is a trademark of USB Implementers Forum, Inc.
Features
USB Type-C compatible waterproof receptacle
Original waterproofing structure, which does not use potting
Realizes waterproof performance of IPX8 (1.5m for 30 minutes) after reflow
Shell available in two types, long and short
Supports 5A max. power supply. (Compatible with USB Power Delivery 3.0)
Applicable Markets
Smartphones, tablets, waterproof speakers, Bluetooth earphones / headphones, action camera, VR / AR, and others
General Specifications
Connector Type
Waterproof DX07 Receptacle Connector
Part Number
DX07W024JA1
DX07W024JA2
Type
Long Shell
Short Shell
Rated Current
5A max.
Waterproof Rating
IPX8 (resistant to submersion at a depth of 1.5m for 30 minutes)
Number of Contacts
24 positions
Rated Voltage
AC20V r.m.s.
Contact Resistance
Initial 40mΩ max.
Dielectric Withstanding Voltage
AC 100V r.m.s. (for 1 minute)
Insulation Resistance
100MΩ min.
Operating Temperature Range
-30°C to +80 °C
Mating Durability
10,000 times
---
DX07 Series (PLUG) (For more details) >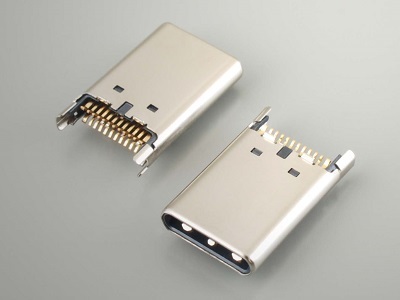 ---
Information and details given here are as of the date of publication. Please note that the details may be changed.