2021/02/12

Trends and Connector Solutions in Wearable Equipment
Wearable equipment is a generic term for "electronic devices that can be worn on the body or embedded in the body." Depending on their intended use, they can be broadly divided into two categories: devices that monitor and record physiological data such as heart rate, blood pressure,number of steps, sleep and calorie consumption; devices that enhance connectivity to the digital environment, such as smartwaches. Devices such as these will further strengthen and drive the wearable market forward in making them even more sophisticated, lighter, thinner, and smaller. In addition, smart-style devices which can be embedded within clothing enabling them to record and collect more advanced information while the person is exercising. The use of smart clothing is expected to expand in the medical sector for patient monitoring; considering electrocardiography and whole body motion sensing cannot be easily measured using smartwatches or similar devices.
JAE offers a variety of connector solutions for wearable equipment, including the RK01 Series, which is a connector for smart textiles with excellent customizability, and the WP Series, which are small and thin connectors for connecting substrates to substrates (FPCs), which is optimized for high-performance and high-density equipment.
Connector Solutions for Smart Textiles
Compared with wearable devices that are worn on the body, such as smartwatches, smart textiles are less intrusive and able to more closely mold around the user to allow for easier and more accurate reading of biomedical signals. Commercialization has already begun in use cases such as safety management of on-site workers, physical condition or performance tracking in sports, and patient monitoring in the medical field.
Against this backdrop, JAE is the first in the industry to develop and sell an easy-to-handle, user-friendly and customisable connectors (RK01 Series) that can be easily attached and detached from smart textiles with one-action, even with multiple contacts. The RK01 Series is highly versatile and can be customized to suit variety of smart textile materials and pin counts, making it the optimal connector solution for miniaturizing and enhancing the functionality of smart textile products.



■ Use Case



Textile manufacturers are focusing their efforts on the smart clothing business, which uses conductive materials, and are increasingly being used in a variety of applications. The RK01 Series supports more sophisticated bio-information monitoring equipment which require more than four electrodes, thanks to the batch-connection construction allowing all pins to be connected in a one-action operation.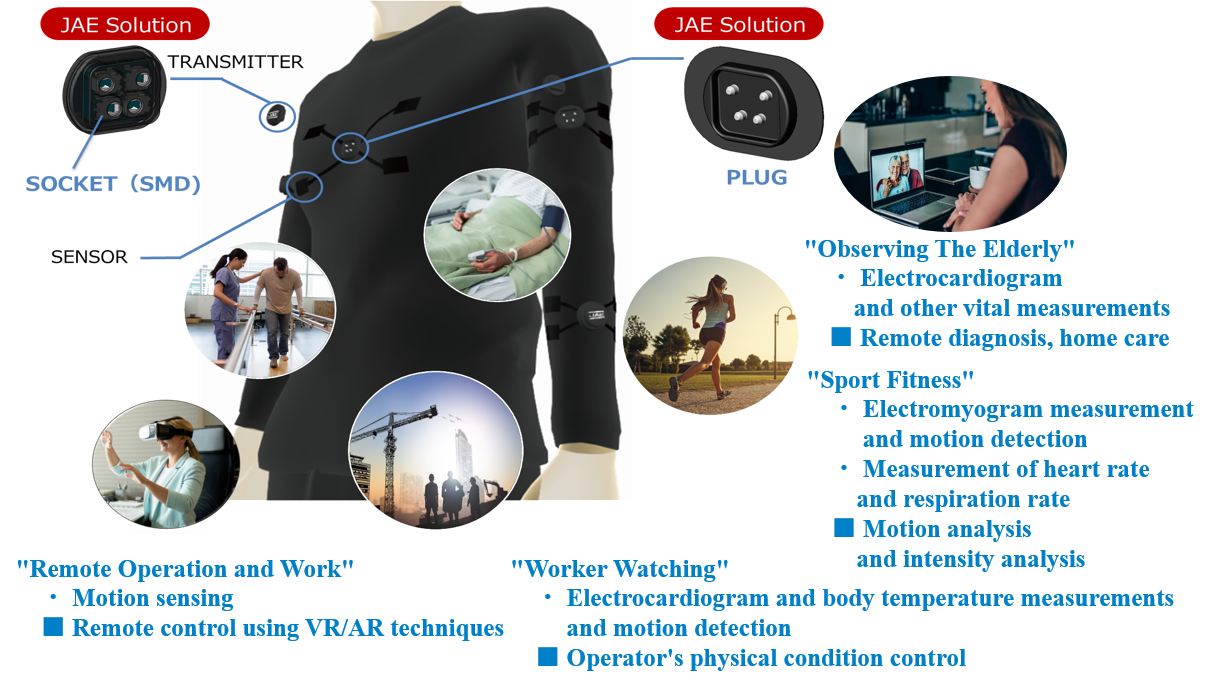 ■ Main Components and Features of RK01 Series Connectors





The "RK01 Series" is the first connector developed for smart textiles in the industry.
It consists of a plug contact on the textile-side connector and a top insulator, a bottom insulator, and a receptacle contact that is surface-mounted on the circuit board of the transmitter.
Because it uses a snap button type, which is widely used in apparel products, it is a user-friendly connector that is easy for anyone to handle, making it ideal for applications requiring multiple sensor transmissions, such as motion sensing.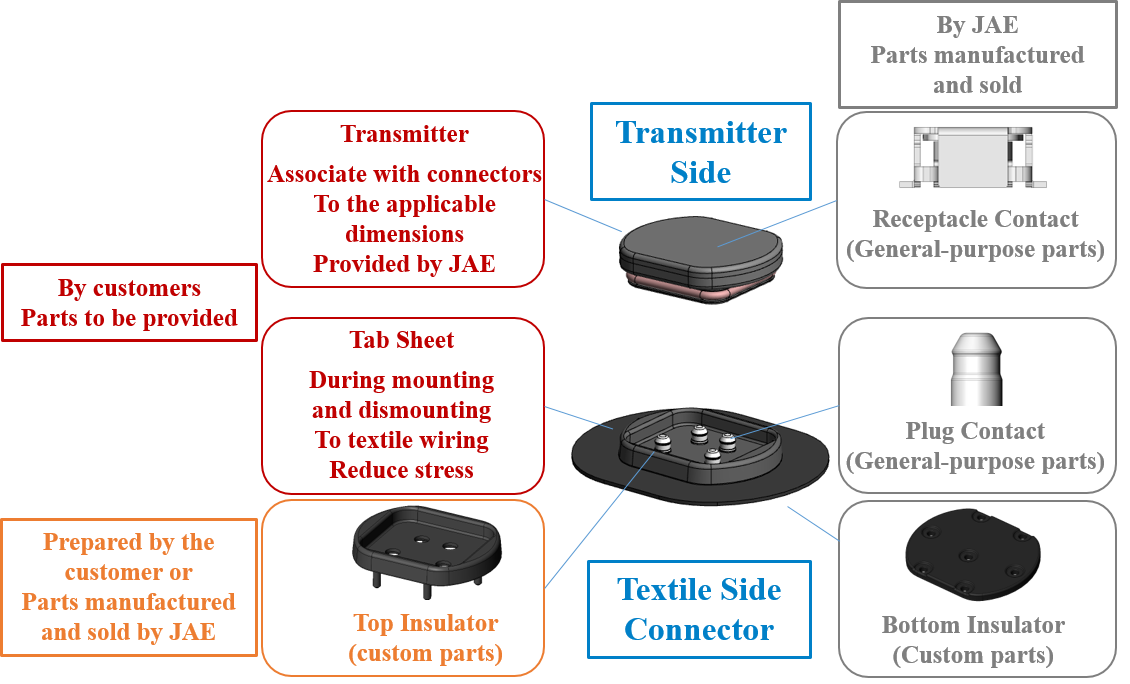 【Features】
① Machine Washing Compatible


Since the plug connector is integrated in the clothing, it must be washable. The RK01 plug meets all of the requirements in the JIS L 1930 (C4G) industry standard for machine washing.
② Simultaneous Termination of Multiple Conductors


Due to the unique press fit process used to terminate the conductive fibers to the plug contacts, all positions can be terminated together. This can significantly reduce assembly time and cost.

③ Simultaneous Mating of Multiple Contacts


The contact points between the socket and plug are free floating, allowing for mechanical misalignment to be absorbed. This allows for many contacts to be connected at the same time.

■ Development Process for Customized RK01 Series Connectors



The main processes from product introduction to custom product development are shown below.
The "RK01 Series" combines a general-purpose contact with a custom insulator to provide a high level of versatility that can be customized to your smart textile material and a variety of pin counts, enabling you to develop connectors to meet your requirements. First of all, please feel free to consult us.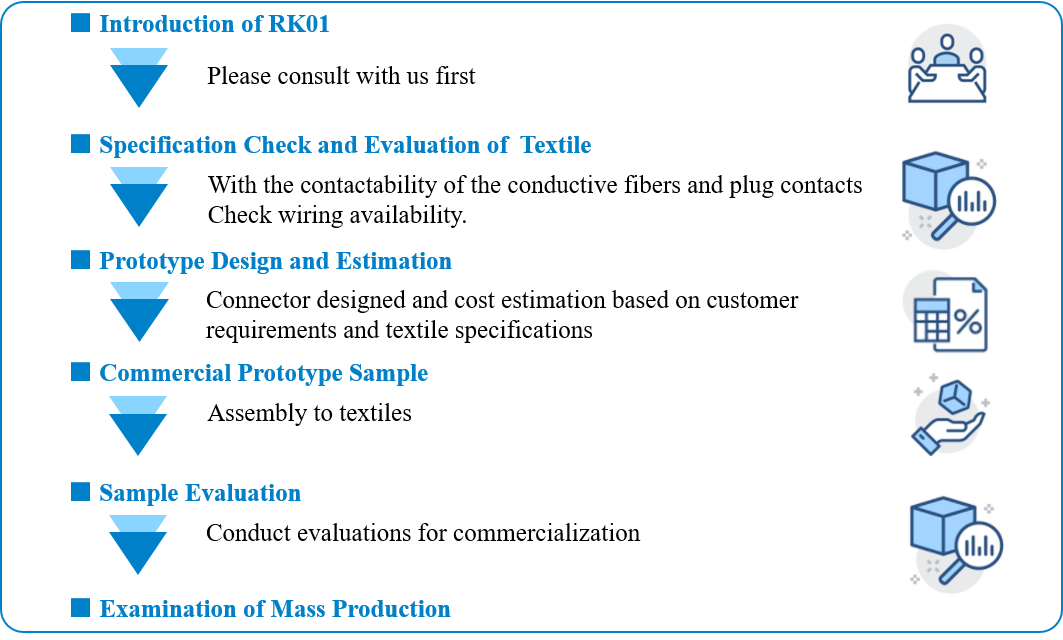 ---
Custom Development Process Details


■ Inquiries for Custom RK01 Series Connectors for Smart Textiles

If you wish to develop a custom connector, please contact us to discuss your requirements.
We will also explain the assembly method of the textile-side connector.
---
Connector Solutions for Smartwatches
As a wearable device targeting ease-of-use and added functionality, recent smartwatches must support multiple features that help to enhance everyday life in a compact package. This has lead to an increase in components and interconnects inside of the devices. As an example, high-performance cameras and displays are connected using very small connectors that are only as thick as the tip of a mechanical pencil called a board-to-board (FPC) connector.
JAE offers a wide variety of robust board-to-board (FPC) connectors in the WP Series. They are small and low-profile connectors with armoring features to prevent damage during assembly, making them the ideal solution for high-density mounting in compact devices.
In addition, we also offer a lineup of contacts of 10 or less, which is ideal for small devices such as smartwatches.

■ Board-to-Board Connector Lineup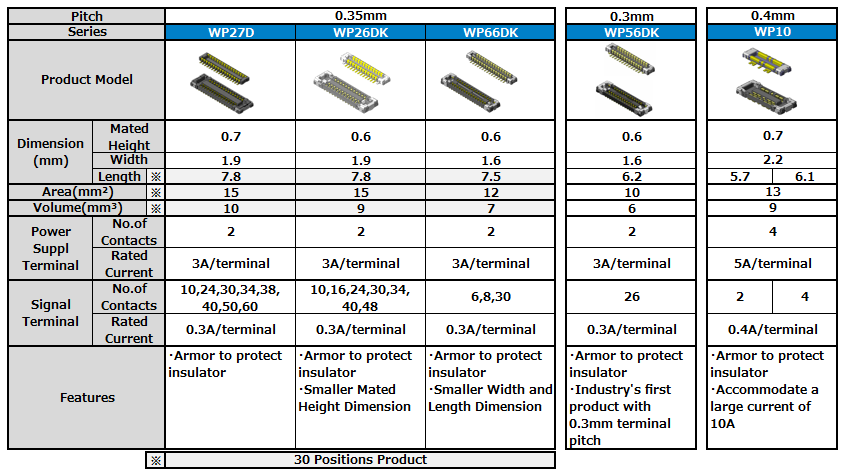 For more detailed information, please refer to each product introduction page
(WP27D・WP26DK・WP66DK・WP56DK・WP10)

■ Features of "WP Series"
Although it is the world's smallest size, it has three features.
① Adopted armor structure. Excellent robustness and workability
② Signal terminals support ultra-high-speed signals of 10Gbps or higher. Supporting the enhancement of equipment functionality
③ Without increasing the number of poles by providing a power hold-down that allows 3A current to flow
Supports mounting trends for high density by supplying drive power such as sensor modules
In addition, as a very small high-current connector for connecting the battery pack,WP10 series are also available.
① Equipped with four highly conductive power contacts that allow 5A to flow to accommodate a large current of 10A
② Not only with quick charging but also with double the capacity of the quick charging standard below 5A
Reducing the risk of heat generation from equipment
JAE is responsible for the processes of forming, pressing, plate, assembly, inspection, and packaging, which are the processes of manufacturing connectors, in order to realize good reflow implementation and to maintain stable quality while providing a compact terminal-to-terminal pitch between 0.35mm and 0.3mm.
We deliver high-quality products by performing assembly, full inspection, and embossed reel packaging through high-speed integrated production using an automatic machine.
---
Download The Custom Development Process for Smart Textile Connectors
WE CONNECT
After completing the form on the right, you will be provided a link to download the documentation detailing the custom development process for the RK01 Series connector.
Subject to change without notice. Errors and omission excepted.
---