Environmental Report 2017
Green Procurement
Status of Green Procurement
The JAE Group is promoting green procurement by reducing its environmental impact and its use of harmful chemical substances starting with the product design stage.

Regulations on chemical substances related to products, including the EU RoHS Directive, are becoming stricter worldwide for products containing toxic substances. Four additional phthalates, in addition to the current six substances, are to be regulated starting on July 22, 2019 in the EU RoHS Directive. The JAE Group, in cooperation with suppliers, is taking steps to prevent the inclusion of toxic substances in products.
JAE Group Initiatives and Activity Results in FY2016
● Dealing with regulated substances
・Revision of Green Procurement Guidelines that incorporate the regulations of each country concerning toxic substances contained in products and customers' requests.
・Handling of four phthalates newly regulated in the EU RoHS Directive (For further details, please refer to handling of phthalates described below)

● Initiatives to communicate information on toxic substances contained in products
・To facilitate the communication to customers of information on chemical substances contained in products, we promoted the adoption of chemSHERPA which some believe will become an international standard as an alternative to several schemes that are now in use, such as AIS, IMDS and others.

● Confirmation of environmental quality by environmental advisors
In fiscal 2004, we introduced our own Environmental Advisor Certification System and certified more than 311 environmental advisors in Japan and overseas. The advisors conduct environmental quality checks to determine if chemical substance controls are being properly and efficiently managed for Group and supplier products.
(1) Confirmation of JAE Group environmental quality
・At five domestic and three overseas sites, environmental advisors conducted internal audits of environmental quality using the industrial association's check sheet.
(2)Confirmation of environmental quality of suppliers
・Environmental advisors conducted environmental quality checks on 381 companies in Japan and overseas based on check sheets containing a reduced number of applicable items.

● Communication with suppliers
 To improve environmental quality, it is essential to have a cooperative framework based on mutual trust, such as creating an environmental control system at suppliers and providing data on the inclusion of chemical substances. In fiscal 2016, we created the following opportunities for communication and tried to build solid relationships.
Held Procurement Policy Briefing
Held New Year's Party
Held Revised RoHS Directive Briefing
Handling Phthalates
Handling Phthalates will be regulated under the EU RoHS Directive starting on July 22, 2019. Because phthalates can migrate to other materials, their unintentional inclusion in resins and rubber easily occurs. Accordingly, we have set up the Revised RoHS Directive Compliant Working Group for the JAE Group, and we are conducting the following activities in collaboration with our suppliers.
Building process control systems for phthalates at suppliers
Holding a Revised RoHS Directive Briefing for suppliers
Examining alternative materials for phthalates and assessing products
Building process management systems for manufacturing, inspection, storage, etc.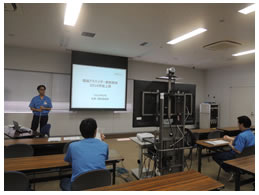 Environmental Advisor Education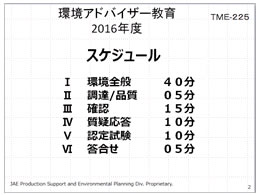 Program of Environmental Advisor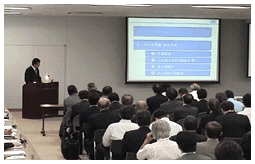 Procurement Policy Briefing
New Year's Party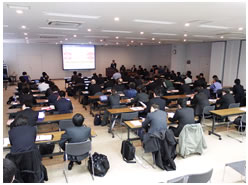 Revised RoHS Directive Briefing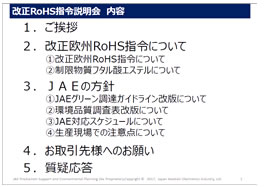 Program of Revised RoHS Directive Briefing
Symbol of the Group's Environmental Policies
Significance of the Environmental Report
Environmental Performance
Environmental Management
Environmental Accounting
Engaging with Society: Group Sites