Environmental Report 2009
The Fight against Global Warming
Global warming is a pressing issue for each and every one of us who uses energy. JAE Group companies not only work hard to improve productivity and conserve energy by effectively using fuel and power, they also strive to bring the fight against global warming outside the company, such as to the home, by raising awareness among their employees.
Greenhouse Gas Emissions
CO2 emissions within the group have been reduced 9.9% from FY 2007. This is largely due to the fight against global warming at each site and the drop in production due to the rapid change in the economic climate that started in the second half of the year. Although JAE had targeted a 38% improvement, which exceeds the common goal under the voluntary action plan (in the electric/electronics industry) advocated by the Japan Business Federation, i.e., a 35% reduction from FY 1990 in the average emissions per unit of real sales by 2010, the slumping economy hurt the per-unit figures, resulting in an improvement of 34.5%, just shy of the target.
The group cut 1,498 tons of CO2-equivalent emissions in FY 2008 by such means as facility-related measures, such as adding inverters to fluorescent lighting and all types of pumps at plants, and production-related measures, such as improving production efficiency.
In addition, the Akishima Plant underwent an energy audit in September, and the group is now focused on taking another look at lighting and facility operation when the plant is not in use, which were issues brought up during the audit. The resulting changes will be applied across the group while cutting CO2 emissions.
The fight against global warming is still a crucial issue in the group's environmental policy in FY 2009. Despite the harsh economic climate, the group is aggressively pushing ahead with the fight against global warming by improving productivity and cutting the energy used by compressors though efforts to eliminate air leaks at plants.
* Average CO2 emissions per unit of real sales = CO2 emissions divided by real sales.
Real sales is an indicator adjusted for the steep drop in prices in the electrical/electronics industry, and is obtained by dividing sales by the Bank of Japan's domestic corporate goods price index (in the field of electrical equipment).
Real sales = sales divided by the domestic corporate goods price index (electrical equipment)
The equivalency factor for CO2 emissions due to energy use employed the value published by the Federation of Electric Power Companies through FY 2006. Starting in FY 2007, the value was fixed to 0.41 tons - CO2/MWh.

CO2 emissions due to energy use/unit sales
JAE Group in Japan
Average CO2 emissions per unit of real sales according to reduction plan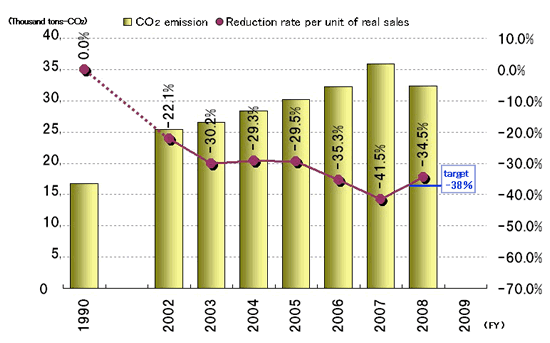 Main Efforts in FY 2008
(1) Eco-driving briefing session (HAE)
1) Installation of "Shut off engine when idling" signs at places such as entrances, parking lots, and reception areas.
2) Placement of "Shut off engine when idling" stickers on company cars from Aomori Prefecture.
3) Holding of screenings for the Ministry of the Environment's eco-driving DVD targeting all employees.
4) Introduction of company cars with an engine shutoff device when idling.
5) Eco-driving education by outside instructors targeting employees driving company cars (150 employees in all).

In FY 2009, the effort is being expanded to employees who commute by car, and the idea of offering them eco-driving training in their own cars is under study.
(2) Reducing use of heating fuel by utilizing waste heat (YAE)
Heat from production facilities and equipment used to be vented outdoors, but YAE is now using such waste heat inside its plants to help with indoor heating in the winter months. This cut the amount of grade A heavy oil used to fuel boilers, resulting in a major CO2 emission reduction of about 250 tons per year.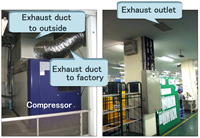 (3) WED cooling systems (FAE)
In FY 2008, YAE is saving energy by updating systems associated with machine tools. The company reduced the energy used by its wire cut electric spark machines by approximately 50% by switching to a more efficient type of machining fluid cooling system. This cut its annual CO2 emission by some 5 tons.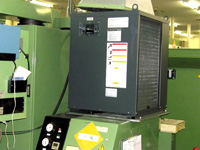 (4) Revising compressor operation (SAE)
SAE reduced CO2 emissions by some 20 tons/year by revising compressor operation, which has a major reductive effect. Specifically, its two compressors, which had been running continuously all night, were cut down to a single compressor. At first, it was thought that this would require construction work to connect the large compressor at plant no. 2 to the pipeline for all-night continuous operation at plant no. 1, but by employing the backup pipe that already existed between the two plants, a significant effect was achieved with minimal modifications.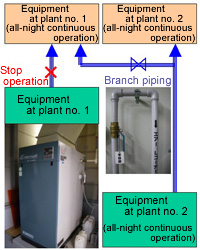 Recent Efforts
(1) Switching off sign and billboard illumination
Company logo signs and billboards at various plant sites had been lit up at night, but they are now switched off each night as part of the group's energy-saving activities. In addition, HAE has started switching off the lighting for its billboard ads at Aomori Airport as part of Japan's nationwide CO2 Reduction/Light-Down Campaign.
(2) Raising employee awareness about the fight against global warming
Raising each and every JAE Group employee's awareness about the fight against global warming will contribute not only to activities within group companies, but also to promoting measures at home, which is an area where CO2 reduction has not made much progress.

▪Participation in Environmental Household Bookkeeping System
The JAE Group is registered in the Environmental Household Bookkeeping System, which is part of the Ministry of the Environment's Eco-Family program, and it is encouraging its employees to participate. Initial participation in FY 2009 was low, but the group is now trying to encourage greater participation through environmental education.

▪No-Car Day (JAE Akishima Plant)
Since the Akishima Plant is located in Tokyo, which has an extensive mass transit system, employees who commute by car were asked to participate in No-Car Day as a way to cut the CO2 emissions associated with commuting by car.
*No-Car Day
A day for people who commute by car to switch to mass transit in an effort to fight global warming.
Two such days per month are planned for FY 2009.
Symbol of Group's Environmental Policies
Environmental Management
Environmental Performance
Environmental Accounting
Site Information
History